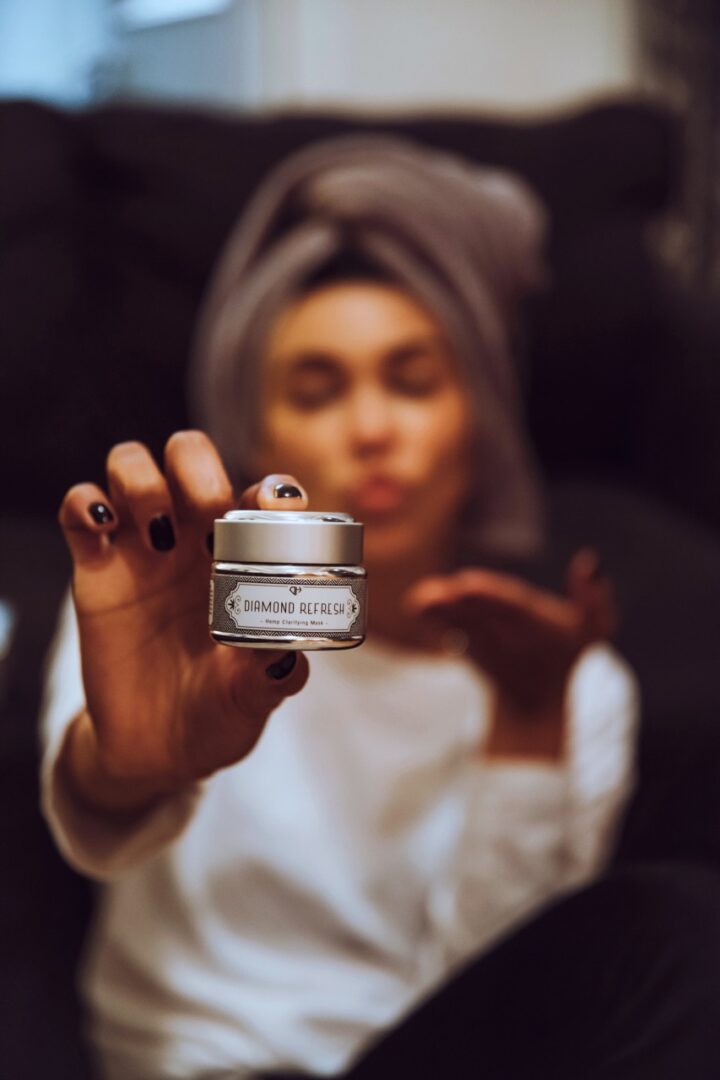 We live in a time where there are so many different products thrown in our face 24/7, so how do you figure out which ones are legit? I know it's tough! I am all about a natural and holistic approach when it comes to my beauty and skincare products. So having a product filled with natural organic ingredients is a top seller for me. I mean really, do you want alcohol and chemical prone products on your precious skin? Yea, I didn't think so.
What do you look for in your creams, moisturizers and face masks? For me, I want extreme hydration and for my skin to glow! What if I told you Hemp Creams and Hemp Moisturizers give you that and so much more?
Hemp has vitamins which help:
Keep skin hydrated
Reduces the appearance of dark circles
Helps treat acne
Boost Elasticity
Protects skin
Fight wrinkle
Soothes dry and itchy skin
Helps reduce the chances of stretch marks during pregnancy
Don't believe me? Do the research! I include Diamond Refresh Hemp Clarifying Mask in my skincare routine for all these added benefits!
The Diamond Hemp mask comes in the form of a powder, and when you add water, the water activates the mask. A thinner mask is made by adding more water, or less water for a thicker mask. I like to activate the mask in the morning before I take on my day.
My day is jammed packed, so for the woman on the go, I think a mask is great because it's a way to get our sometimes under treated skin some TLC. We can still keep it moving around the house and get our errands done while our skin receives the treatment it needs. I usually wear the mask for about 30 minutes while I pick out my outfit of the day and get the kids ready for school. For those who have a little more time on their hands, you can quite easily make your own hemp mask using hemp from somewhere like PureHempFarms. When making your own, you can add anything you like. Try adding honey, for example, to help kill any harmful bacteria and to deeply moisturise. Combining hemp with other natural ingredients will lead to a simply divine experience that your skin will love.
I love the smell, if you have a good sense of smell, it's a barely there smell but reminds me of soil and earth, very pleasant and calming. The texture is also very smooth and went on smoothly when I applied. The mask started to harden a few minutes after applying, but never gave an uncomfortable, super stiff mask feeling. I've walked by the mirror and scared myself because I forgot it's on! Lol! I remove the mask by blotting it off with a warm, water-infused rag, or just using my hands and rinsing water on my face. I've tried masks before that hurt rinsing off, but this one was soothing.
My skin felt so clean and refreshed, and I even felt like I had that young, fresh face I had in my twenties. I mean what other mask or moisturizer do you know that provides all of this?! Some people turn to products outside of skincare such as CBD vape oil to boost their overall wellness and physical health and that will include benefits to the skin, protecting against things like acne due to anti-inflammatory properties.
For those of you who are like, Ok, but what's in this miracle mask? Here are the key ingredients:
Green Clay, Charcoal, Vitamin C, Organic Blue Green Algae, Organic Hemp Seed Oil (Cannabis Sativa). To answer the question you are all wondering about the mention of cannabis, no, you will not get high from the mask! If you want to get high, you would be better off learning how to roll a cross joint and consuming cannabis the traditional way. This mask is made by extracting CBD from the cannabis plant and then it's diluted with hemp seed oil.
Usually, my mornings are a recipe for disaster, but since including the hemp mask in my routine, I have felt more relaxed and not as overwhelmed as I usually feel, so there's something to this whole CBD take over in the beauty market, as well as the other markets that products like cbd powder have appeared in as a form of pain relief, for example. I was hesitant about trying CBD in my beauty products, but since all the hype around it, of course, I had to give it a whirl and report back to you busy women, and I give it an A+ rating, especially for my lifestyle!
My take is to say yes to:
All natural ingredients
Younger looking skin
Deep clean skin
More relaxed vibes
The affordable price point at just $49.99 (for multiple mask applications)
If you're not into the whole mask thing, Diamond CBD carries different hemp products, from Facial Serum to Body Butter and Antioxidant Cream. Look into it and tell me what you think after all your skin is only the largest organ of your body *wink wink*
---
This shop has been compensated by Diamond Hemp and its advertiser. All opinions are mine alone.
Photos by Jonathan Williams