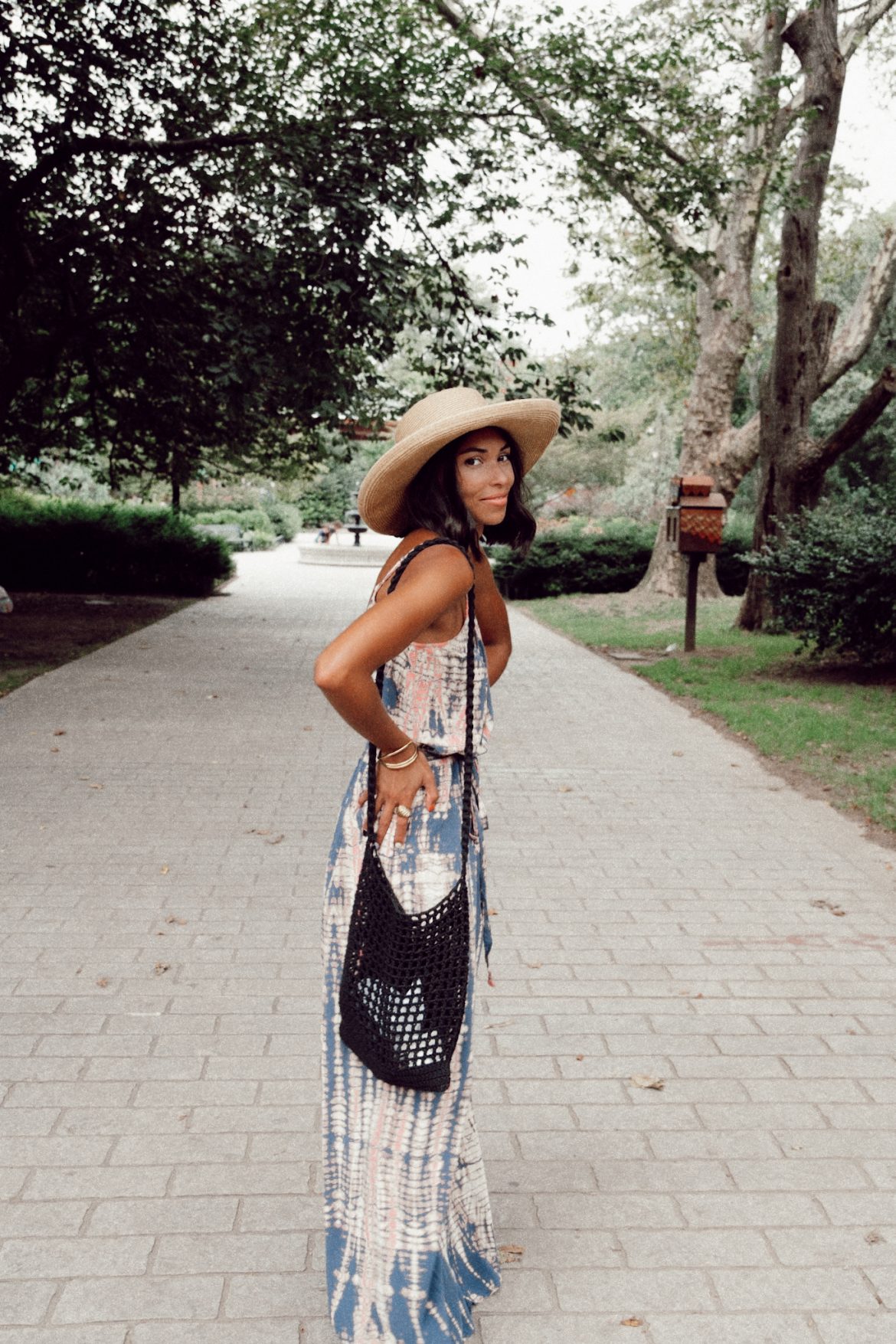 One of the most relaxing ways I love to spend my downtime is at a park… even with my kids (I know relaxing and kids in a sentence seem like an oxymoron). I don't want to spend time at just any public park though. I was raised in Washington Heights and then the suburbs of New Jersey (surrounded by parks) and never considered myself a person who likes parks, I thought they were boring and sometimes shady. Then I found these Jersey City public parks that are now at the top of my, "things to do in my pass time" list. How do you turn a park hater into a park lover? Keep reading for all the reason why I love these 3 Jersey City public parks.
McWilliams Pl 8th St, Jersey City, NJ
Hamilton Park is one of my favorite Jersey City public parks for its versatility. There are big green grass areas where you can picnic, lay out and read a book or play soccer with your kids. There's a playground for both toddlers and big kids, I'm normally there every Saturday AM letting Kingsley run around so his big brother can sleep in. You can catch a basketball game on the courts,  either a  league playing or sometimes it's just an intense game of pickup basketball. During the hotter months, I bring the kids to the splash pad where I kick my shoes off to also enjoy the water and cool off. Are you a dog mom/dad? There are two areas for your dog, a small and big dog park. Not interested in any of this but you love tennis? There are two tennis courts as well. To top it off they have a farmers market every Wednesday from 5-8. Something for everyone and for your every mood. Kingsley loves the Little Free Library too where the kids can borrow books from the little wood posts. FYI, my photos in this post were shot in Hamilton Park.
700 Washington Blvd, Jersey City, NJ
I blame Newport Green for my lack of enthusiasm when asked to visit the Jersey Shore by friends and family. I actually hate the ocean in the tri-state area. I lay on the sand and never step foot in the water so what's the point of driving 1.5 hours away? I can do the exact same thing at Newport Green. If you live anywhere near Jersey City this public park is a summer must. Besides your standard park stuff i.e. open green field, splash pad and playground this park has an awesome beach! Yes, you read that right — a beach. There's an open sand area where you can hang in your bathing suit with a beach towel in hand. The sand area is stocked with beach chairs and huge umbrellas and the best views of the city skyline. Skip the traffic, tolls and the beach fee and say no more! (Do not try to swim in the Hudson River, please and thank you!) I come here with my kids or my sister meets me with my niece and nephew — we layout while the kids build sandcastles. Did I mention the carousel? Yea there's that too.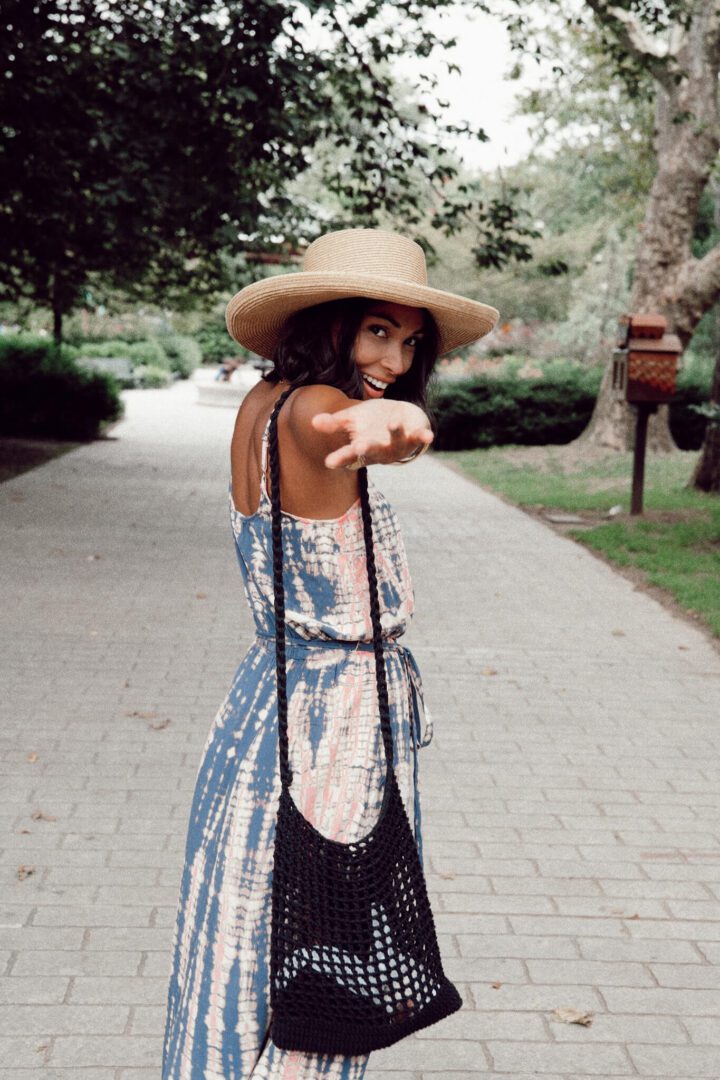 281 Montgomery St, Jersey City, NJ
Van Vorst Park is a much smaller, quaint park — I like to visit when I  don't want to be around a lot of people (we all have those days). The playground area is small so I let Kingsley freely run around or use his sidewalk chalk on the ground (it's impossible to lose sight of your child in the small gated playground area). Sometimes I take a stroll to the park by my self with a book in hand and relax on a bench surrounded by greens and pretty flowers. The park also has a dog park and hosts a weekend farmers market. Its a much more chill vibe for those low key days.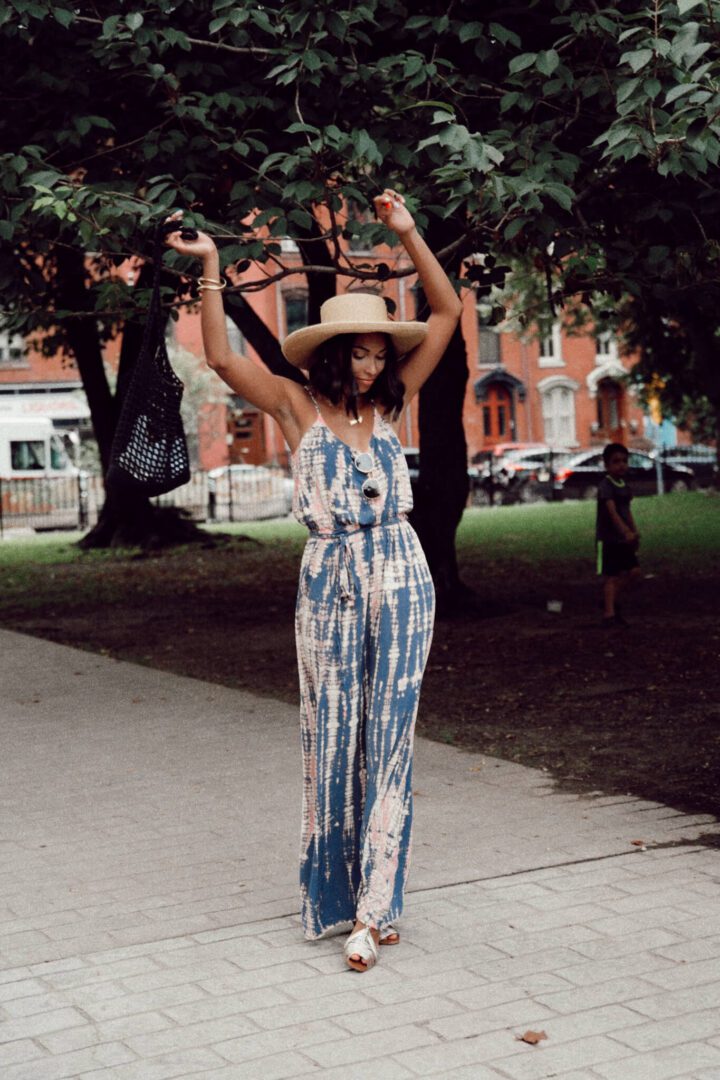 Shop my look
What are your favorite Jersey City public parks? Love my outfit? Shop more looks HERE or you can shop my go-to stores HERE
---
DISCLOSURE| SOME OF THE LINKS ABOVE ARE AFFILIATE LINKS, MEANING AT NO ADDITIONAL COST TO YOU, I WILL EARN A COMMISSION IF YOU CLICK THROUGH AND MAKE A PURCHASE.
Photos by Jonathan Williams 
Photos taken at Hamilton Park