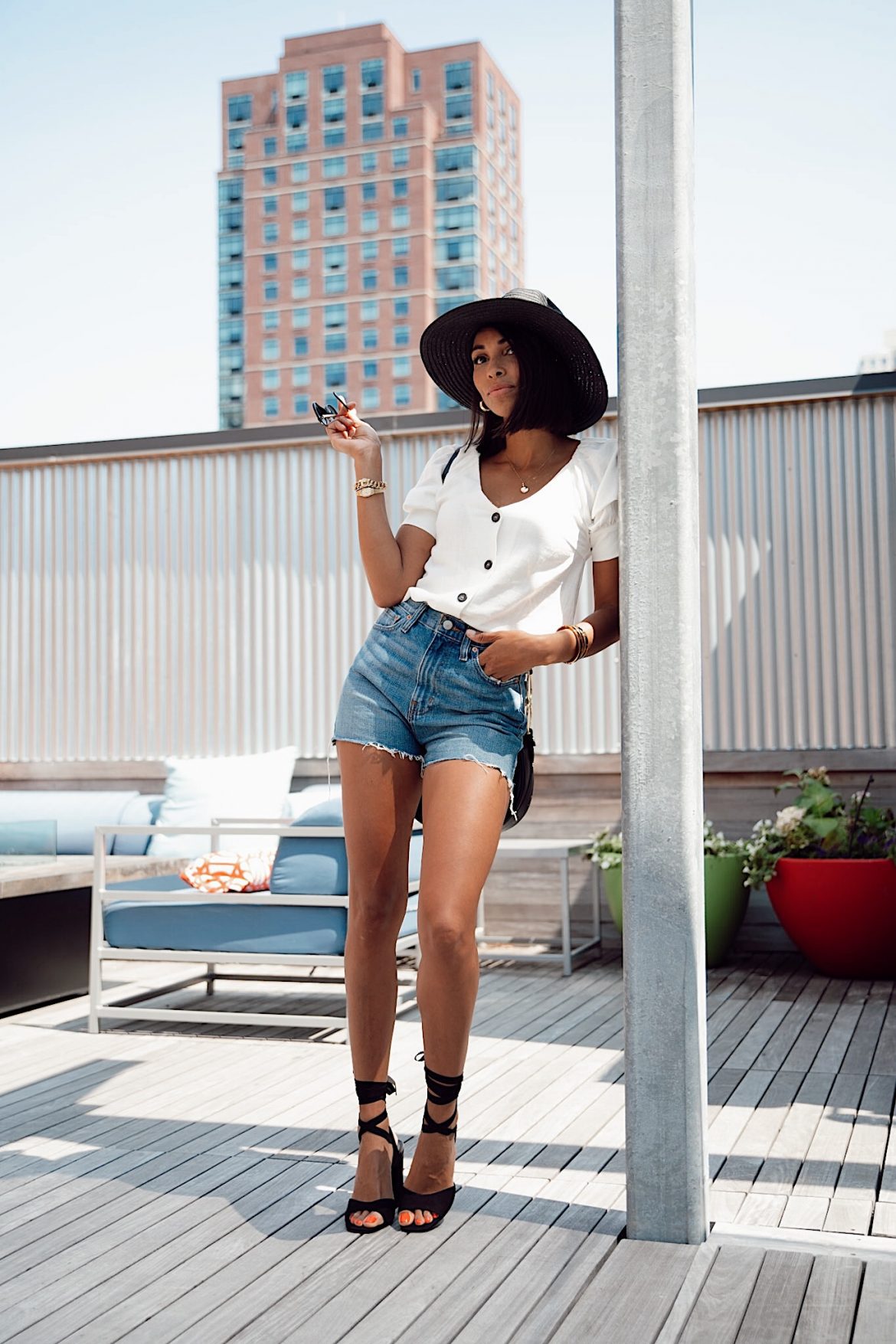 I've toyed with the idea of adding a Jersey City section to my blog for a while now. I wondered if I was passionate enough about it to have it be a part of my work? I've lived in Jersey City for over 5 years now, and have decided that I do love it enough to cover it consistently — so… Welcome to the first blog post about Jersey City!
How did I get to Jersey City?
When I met Todd, I lived in the basement of my parent's house in Ridgefield Park, NJ and he lived in the Lower East Side of Manhattan. I wasn't moving to the city and he wasn't moving to the suburbs. The middle ground? Jersey City. It's close to the trains so Todd can get in and out of the city for work and just 20 minutes away from my hometown (gotta stay close to moms cooking). Our friend, Debbie (who also lives in Jersey City) sent me the link to our apartment via Zillow, we called, we saw, we signed our lease and haven't left since.
Why do I love living in Jersey City?
My husband is white and I am a dark-ish skin Latina, we're an interracial couple (sometimes I feel like we just look like a Latin couple though, lol). Downtown Jersey City (the section we reside in) is FULL of interracial couples! My children are exposed to mixed families on the daily and I love being in a community where love is love (btw the mixed babies in this community are just gorgeous). The diversity of the area is pretty surreal and the inclusivity feels like home.
I have meetings and photoshoots in the city often and I can either jump in my car and take the Holland and be in the city in 15 min (not during rush hour) or jump on the train (NJ Path is a few blocks away) and be in the city in about 10 min. I love going to the city but I enjoy getting out of so the accessibility of the city is everything.
There's always something going on. We wake up some mornings with absolutely zero plans, we're able to walk outside and follow the signs to a nearby festival — or go online to figure out what events are going on around us. Most of the times, the events are kid-friendly and we're able to have some sort of spontaneity — even with the kids. It's never boring here!
I maintain a social life, even as a mom — even as an entrepreneur. Most of my friends live in the suburbs so they don't mind coming this way for a night out. It's easier for them to stay in New Jersey than dealing with the hustle and bustle of meeting in the city. And my city friends, they also don't mind taking the train to meet me here. We've also made new friends who live here so when our hometown friends can't come this way, we hang with our local friends. The restaurants and bars are lively, good food, good views, good music, kid-friendly, and just a few blocks away from my apartment, gold!
There are so many more reasons and places but you'll have to stay tuned : )
So what Jersey City topics am I going to cover?
I put up a question sticker on my IG stories, "What Jersey City content are you interested in me posting" and here were some of the answers I received:
Family events
Jersey City Heights
Cool places to go- shopping, restaurants
Schools
While all of these topics are covered by others in their entirety (and they do a great job). You guys follow and read my blog post because you connect with ME so even though others are covering it, it isn't Dileiny's take on it. I will totally be open to trying new places you guys recommend but to start I'll cover the places that I go to and love.
Have a question or recommendation on anything Jersey City? Sound off below! Not interested in Jersey City posts? No worries, I will still be covering style tips on the regular. 
Similar Top| My Denim Shorts | My Heels | My Hat| Similar Bracelets
---
DISCLOSURE| SOME OF THE LINKS ABOVE ARE AFFILIATE LINKS, MEANING AT NO ADDITIONAL COST TO YOU, I WILL EARN A COMMISSION IF YOU CLICK THROUGH AND MAKE A PURCHASE.
Photos by Jonathan Williams 
Photos were taken at Modera Lofts in Jersey City