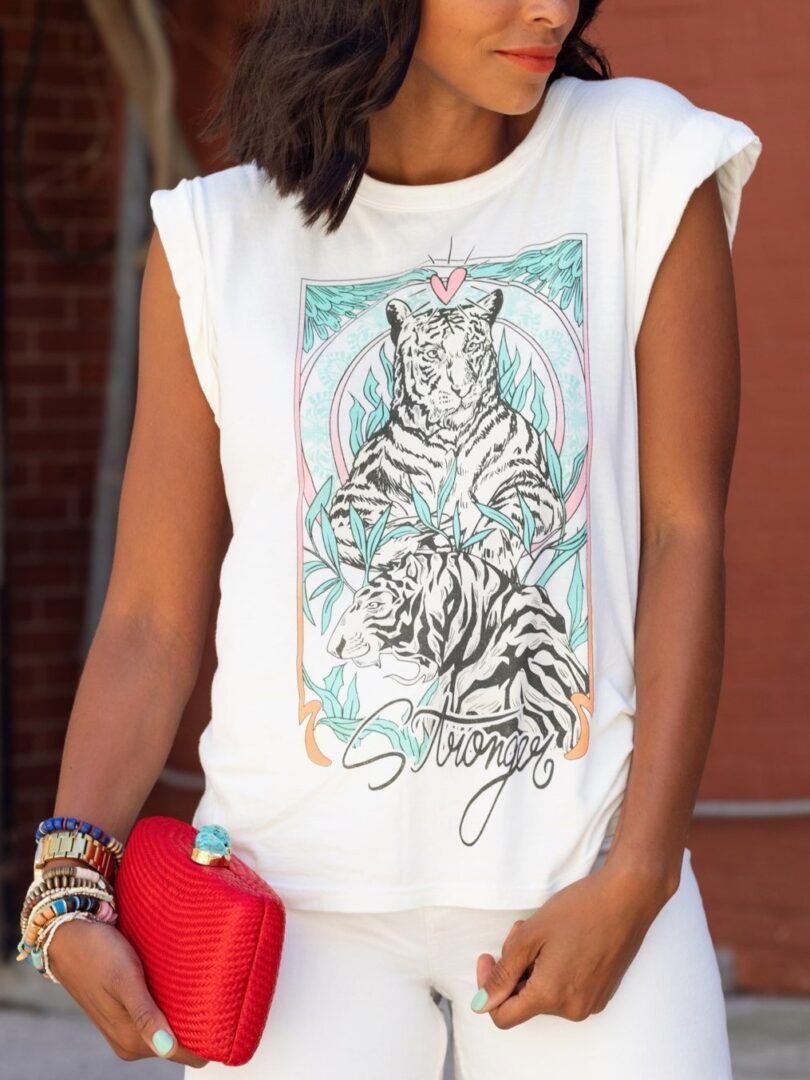 They say the way you dress is an expression of who you are. What do your clothes say about you? I love a good graphic tee and ever since last summer I've been obsessed with cut-off muscle tanks. In my latest design and collaboration, I designed exactly that — a muscle tank graphic tee! In this design, I incorporated 3 things: the symbolism of strength with not one but two tigers, tropical/jungle art for all the boho feels, and love is always a part of everything I do — symbolized with the heart above the tigers head. Keep reading for more details about the stronger graphic top I can't stop wearing!
Stronger
I wanted us to be able to wear something that represents coming out on the other side of this crazy year, stronger. So if you've been through anything and have made it out stronger, this tank is for you! Don't you love that?
Tropical/ Jungle Vibes
There are so many colors, making it work with many different pieces in your closet. If you're a lover of all things tropics, you're going to love the art on this.
Where to shop
This tank was cut and sewn specifically for my shop and the graphics are exclusive to Love Fashion & Friends!  This is a much more elevated top than the usual LFF graphics. It's a super-soft, versatile and unique summer/fall tee. Looks great tucked into jeans or out. The only place you can shop for this tank is in my Etsy Shop!
Grab yourself the Stronger Tank and tag: @lovefashionfriends for a chance to be featured on my IG page and blog! The t-shirt is on Etsy or click on the link below under, "Shop my look".

Shop my look

---
DISCLOSURE| SOME OF THE LINKS ABOVE ARE AFFILIATE LINKS, MEANING AT NO ADDITIONAL COST TO YOU, I WILL EARN A COMMISSION IF YOU CLICK THROUGH AND MAKE A PURCHASE.